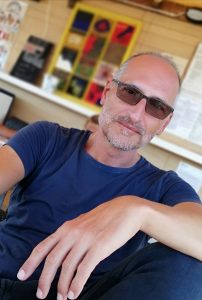 I was born in 1963 in Fano, a small town on the shore of the Adriatic sea. My father fond of music, and my mother painting. I'm enthusiastic about both and so my musical and artistic studies in Pesaro and Urbino crossed.
When I was 25 years old I make my choise; images, painting, colors.
In 1993 I was going to Paris, where I'll stay for 10 years. At the beginning I work as a graphic designer, but shortly after, l'm doing my debut into the illustration's world and publishing my first project. My images are used in books of childrens and adults, in the press and in posters of theatre. The subject of my work is often the human body, his form and thought, that trasforms and shapes it.
But the painting is always present in my way of creating images. In 2003 I back in Italy and find a studio not far from the sea. I continue to illustrate the books, but my artistic research becomes more and more an intimate introspection. I paint landscapes, places makes engraved material with traces and signes, where the presence of man is replaced of a small house, a minimal home. I create sculptures which seems architectures.
And finally the music is back in me again. Its presence defines the rhythm and my new images construction. The forms become more organic; I cut and recompose them in visions like musical scores, to create the full and the empty, the noise and the silence.